chtnews.com
Wednesday, January 3, 2018,
Mithun Chakma, an organizer of the United Peoples' Democratic Front (UPDF), has been shot dead in Khagrachari.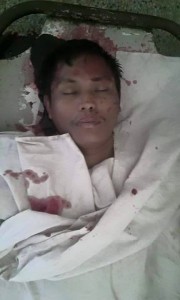 Members of the army-backed Nabyo Mukhosh Bahini vigilante group picked him up from in front of his home at Aparna Chowdhuri Para in Khagrachari town at 12:30 p. m. today and took him to Sluice Gate area and then shot him point blank in the head and abdomen, killing him instantly.
UPDF General Secretary Rabi Shankar Chakma in a statement condemned the killing of Mithun Chakma as 'cowardice, barbaric and an unpardonable crime'.
Mr Chakma urged the government to arrest the killers immediately.
Nabyo Mukhosh Bahini is an armed vigilante group formed by the army to counter the growing influence of the UPDF.
The Bahini has so far killed two UPDF leaders and a supporter.
———–
News No: 01/2018
2560 Total Views
4 Views Today