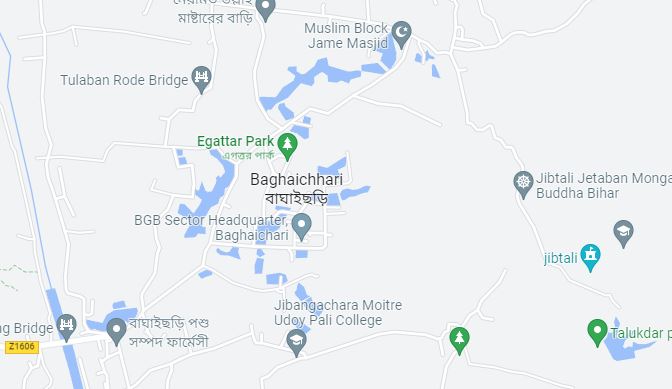 chtnews.com
Thursday, May 01,­ 2014
THE UNO of Baghaichari on Wednesday imposed section 144 for an indefinite period in Ajolchuk Bana Vihar area in Todekmara Kizing (also known as Dui Tila) prohibiting the assembly of more then four persons, following an attempt by army to prevent the setting up of a Buddha statue in the Vihara.
The local people began the construction of the 10-feet-high Buddha statue on 28 April. It was intended to set up on the top of a hill within the boundary of Ajolchuk Buddhist temple, founded in 2005. While the work was in progress, a group of army personnel led by a Warrant Officer from nearby Duitila camp went up there and ordered the people to stop the construction.
On Tuesday, the army repeated the same and a contingent of police were deployed to the area to enforce the order. On Wednesday, the Baghaichari Upazila Nirbahi Officer and other officials from Forest Department, accompanied by local elected representatives and journalists, visited the
area and declared section 144 since afternoon on a false pretext of 'prevailing ethnic tensions between Jumma and Bengali over the construction of the Buddha statue.' The local civil administration claims that the area where the statue was intended to set up belongs to the Forest
Department – a claim denied by the local people. It said the section 144 (of the Criminal Procedure Code) would remain in fore until 'the situation comes back to normal'. A member of Baghaichari Union Council told
chtnews.com that the claim that there was Jumma-Bengali ethnic tension was totally baseless. "There was no tension. It was only a figment of imagination.' he said, adding that the section 144 was clamped to deny the Jummas of their right to land and religion. According to a school teacher, who was present during the construction of the Buddha statue, hundreds of acres of land were taken over by illegal Bengali settlers in the area during the rule of emergency in 2007-2008. The army actively supported the settlers in the forcible acquisition of the Jumma's land. 'The reason why the army and the local Bengali administration are preventing the setting up of the Buddha statue is that they want the land remains vacant so that the illegal Bengali settlers can occupy it when an opportune moment comes.' he said. He said during the rule of emergency the settlers backed by the army had destroyed a number of Jumma houses and orchards before taking over their lands. Meanwhile, another report said the army has blocked Sajek – Gangaram road apparently to prevent Jummas from getting to Ajolchuk Bana Vihara. "The army has ordered the owners of vehicles not to ply on the road. This has resulted in untold suffering for the common people." a resident of Sajek told chtnews.com on condition of anonymity. A large number of army and police personnel have been deployed to Ajolchuk Bana Vihara (Temple) area.
—————-
News No. 02/2014,