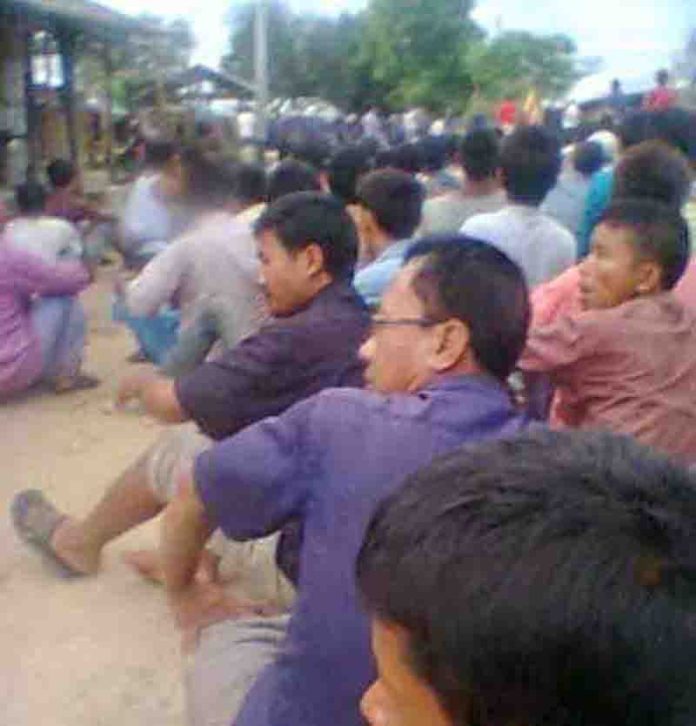 chtnews.com
Wednesday, July 23,­ 2014
BUDDHIST devotees and villagers in Sajek have blocked roads in protest against local administration's undue intervention in the installation of a statue of the Lord Buddha near Ujo bazar.
They lied down on the road after walking out of a meeting with Baghaichari Upazila Nirbahi Officer, Sumon Chowdhury, and Additional District Magistrate Mostafizur Rahman, in the afternoon today at Ujo bazar.
They demanded that the administration withdraw the police personnel deployed yesterday to prevent the installation of the Buddha statue and also lift a ban on the installation of the statue.
The local administration had made the intervention on Tuesday when Buddhist devotees were installing the statue of the Buddha on a privately owned land in Gangaramdoar village.
The devotees made a strong protest and stayed the whole night at the site, facing off the police.
To break the standoff, Sumon Chowdhury, UNO of Baghaichari Upazila, and Mostafizur Rahman, Additional District Magistrate of Rangamati, held a meeting with the Buddhist devotees and local leaders in the afternoon Wednesday.
The Buddhist devotees demanded that the police be withdrawn and they be allowed to install the statue of the Buddha on the designated site.
They also opposed the government plan to build a headquarters for 51 BGB battalion in their area.
"We came here in the 1980s after being ousted from our villages due to military oppression and attacks by Bengali settlers. Even before that we had been evicted by Kaptai dam in the 1960s. So, we don't want to be dislodged from our lands once again. We have no other place to go, if we are evicted from here by the BGB." they told the government officials.
The ADM refused to meet their demands and instead offered compensation for the loss that they might incur if the statue is not installed, prompting the Jumma participants to walk out of the meeting.
Latest reports say the Jummas have withdrawn the road block after the government officials pledged to resolve the issue of the installation of the Buddha statue after the Muslim Eid festival
—————-
News No. 53/2014,