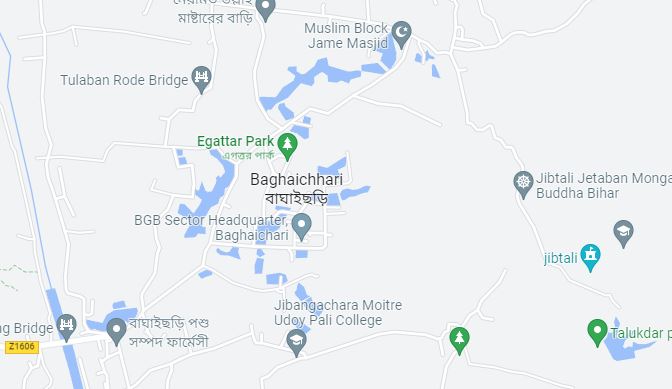 chtnews.com
News No. 68/2011, April 15, 2011
THE people of Babupara in Baghaichari under Rantgamati district caught a man along with arms and ammunitions he said were meant for the armed gangs belonging to Santu group.
The villagers of Babupara caught him at 1pm today, Friday.
The man has reportedly introduced himself as Major Mahabub from Directorate General of Forces Intelligence (DGFI).
Accompanied by a woman he claims to be his wife and a child, Major Mahabub, in a Pajero jeep, was heading for Shizokdoar, a stronghold of the Santu group.
He was carrying two SMGs and two magazines, of which one was loaded with live bullets.
He was reported to have confessed to the mob who caught him that the arms and ammunitions were meant for the armed gang of Santu group.
When his Pajero was stopped, Major Mahabub asked the people whether they were "Abishkar babu's men" (believed to be the nom de guerre or code name of a commander of Santu group).
He immediately phoned "Abishkar babu" to ask whether he had sent his men at Babupara.
When he was told from other side that none was sent at Babupara to receive the arms supply, it became clear to him that he had mistaken the mob for Abishkar Babu's men.
When the news of his seizure with arms and ammunition reached to local Border Guards Bangladesh, Lt. Col. Monir Hassan, Commanding Officer of Baghaichari BGB camp, rushed to Babupara and took Major Mahabub and the arms and ammunitions under his control.
Lt. Col. Monir also urged the villagers to keep the matter a secret.
The UPDF has expressed serious concern over the seizure of Major Mahabub along with arms and ammunitions meant for Santu group and demanded a full and independent inquiry into the whole incident.
It is not known whether the seized Major Mahabub is the same Major Mahabub who was responsible for the birth of a terrorist group called Mukhosh Party (PPSPC) in Khagrachari back in 1995.
In any event, the seizure of Mahabub exposes the nexus between Santu group and the intelligence agencies of the government.
………………………..