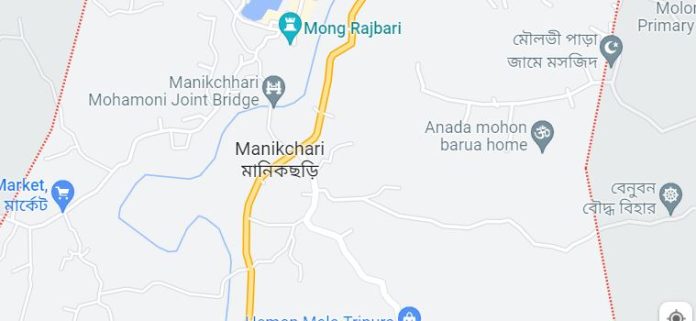 Thursday, December 06, 2012
FOUR families of the United Peoples' Democratic Front (UPDF) have been evicted from their homes by military-backed Borkha Party terrorists in Manikchari under Khagrachari district.
According to UPDF and other sources, on 4 December, Tuesday, at around 1pm, a group of 11 armed Borkha Party men led by Abhizan Chakma and Maya Dhan Chakma raided the villages of Mohishkhali and Dojori and forced the families of four UPDF members to leave the village.
'The terrorists forced us to come out of the house, and when we came out they smashed our house.' Alpana Chakma, wife of Shruti Mohan Chakma, who is now staying with one of her relatives in a nearby village.
The Borkha men also beat her and snatched her mobile handset.
'They ordered us to leave the village and live elsewhere. We don't know what our fault is. We did not do anything wrong.' Ashok Kumar Chakma's wife Sonarani Chakma wailed.
'Even we have not been allowed to pick up our clothes and dresses.' she added.
The other two families ousted by the Borkha are that of Bijoy Chakma and Gopal Chakma – both UPDF activists.
A UPDF press release said the Borkha terrorists had driven out Shruti Mohan Chakma's wife Alpana Chakma and their two daughters; Ashok Kumar Chakma's wife Sona Rani Chakma and their two sons aged 2 years and 9 months; Bijoy Chakma's wife Gurimila Chakma and their two sons aged 12 and 8 and daughter aged 7 month; and Gopal Chakma's wife Sonali Chakma and their 11-year old son and 3-year old daughter.
The UPDF in a statement condemned the Borkha action as 'the most shocking manifestation of vindictiveness.'
——————-
News No. 128/2012.