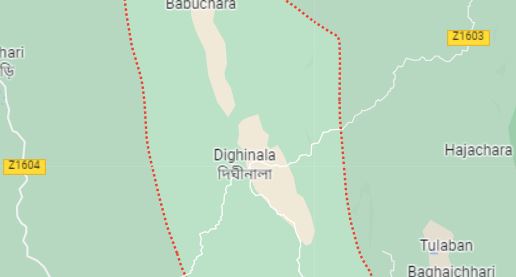 chtnews.com
Sunday, April 24, 2016
ATTACKS on Jumma neighbourhood, beating of Jumma voters, capture of polling centres, rigging, coercion and intimidation marked the Union Council elections in Khagrachari district yesterday.
In a desperate attempt to get Awami League candidates win the elections, the army and Bengali settlers carried out attacks on Jumma neighbourhoods and voters in Kobakhali Union under Dighinala Upazila yesterday burning down a house and looting seven others and three shops and injuring several people.
The UPDF rejected the result of Kobakhali Union and demanded the election commission hold fresh elections to 12 polling centres across Khagrachari district.
The ruling Awami League candidate Jahangir Alam won in Kobakhali Union through massive rigging, violence and coercion.
'The army snatched my victory and handed it to the Awami League candidate; I don't accept the result,' claimed Bishwa Kalyan Chakma, who had served the Union for the last two consecutive terms.
UPDF in a statement condemned the attack and provided the name of the victims. According to UPDF, the house the settlers set on fire during the attack belonged to Chikka Moni Chakma.
The attack took place at 1:30 pm after the election agents of Bishwa Kalyan Chakma challenged Bengali settlers casting fake votes.
'The army took side with the settlers and beat up Jumma voters indiscriminately' UPDF said, adding that the settlers then took full control of three polling centres at Hachinson-pur High School, Hachinsonpur government primary school and Halimia Madrasha and stuffed ballot boxes with fake votes.
The settlers also burnt down the motorbike of Dipon Jyoti Chakma, the chief election agent of Bishwa Kalyan Chakma while the army picked up five Jummas including Himel Chakma and Joy Shashi Chakma.
In another incident, the settlers spread a rumour saying that their candidate Jahangir Alam was kidnapped by 'Pahari terrorists' when he visited a polling centre at Tarabon in Kobakhali Union, prompting the army to rush there and beating up Jumma voters who had lined up to cast their votes.
The Jumma voters could not cast their votes in this polling centre as well.
The army replicated this incident at Jora Bridge Government Primary school centre. At 2:30 pm they went there and beat up the Jumma voters who had queued up to cast their votes, injuring four of them including a woman.
The injured Jummas have been identified as Tuthya Chakma, 26, Puronjoy Chakma, 40, Gita Chakma, 27, and Sadhan Bikash Chakma.
After the incident the Jummas fled from the polling centre leaving it wide open for the Bengali settlers to rig.
The attack on the Jumma people was premeditated to rig the poll, alleged UPDF who supported Bishwa Kalyan Chakma in the election.
Loots
During the attack the settlers looted seven houses belonging to Soubhagya Chakma, 46, son of Ujit Kumar Chakma, Suprakash Chakma, 65, son of Jyotirmoy Chakma, Joy Prakash Chakma, 45, son of Jyotirmoy Chakma, Mrs Joy Sudha Chakma, 45, daughter of Jyotirmoy Chakma, Dwip Prakash Chakma, 42, son of Jyotirmoy Chakma, Chayan Chakma, 35, son of Nil Moni Chakma and Nil Moni Chakma,70, son of unknown.
The shops looted by the Bengali settlers belong to Monindra Chakma, 65, son of unknown, Sunirbindu Chakma, 70, son of late Chitra Kumar Chakma and Dev Jyoti Chakma, 48, son of Chandra Kumar Chakma.
Rigging in Panchari and Mahalchari
UPDF leader Ujjwal Smriti Chakma alleged that in Panchari the settlers captured six polling centres and carried out massive rigging. The captured polling centres included Mohammadpur government Primary school, Panchari Model government primary school, Talukderpara government primary school, Hassan Nagar government primary school and Pilot Farm government Primary school under Panchari Sadar Union No. 1 and Logan Bazaar school in Loang Union.
Massing rigging was also reported from Guchchagram government primary school centre, Abashik government primary school centre and Mahalchari Pilot High school centre in Mahalchari Sadar Union.
The Bengali settlers captured these centres, drove the Jumma voters away and stuffed ballot boxes in favor of their candidate.
—————
News No.38/2016