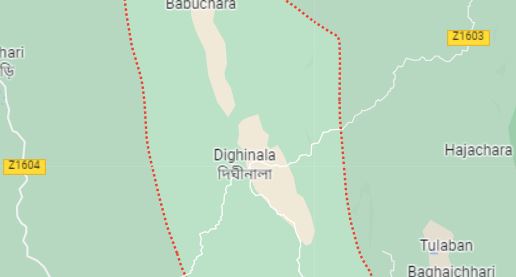 chtnews.com
Wednesday, February 21, 2018
AN ARMED terrorist attack on members of the United Peoples' Democratic Front (UPDF) by army-backed Nobyo Mukhosh Bahini vigilante group has left one UPDF activist dead and three others wounded in Dighinala under Khagrachari district.
Seven NMB vigilantes led by Lun Kumar Tripura attacked UPDF activists at Chattrabus area in Jamtoli, about three kilometers south-west of Dighinala Upazila headquarters, at 9:15 a. m. today.
'Some of the terrorists were clad in military fatigues while others in olive-green uniform,' a UPDF activist who survived the deadly attack told chtnews.com.
The UPDF activists were having breakfast when the attack took place, he added.
The NMB terrorists opened fire indiscriminately at them, leaving Super Chakma, 23, dead.
The attack also left three others wounded. They are Anil Tripura, 40, Milon Tripura, 28, and Rubel Chakma 26.
Of them, Anil Tripura has been admitted to a local hospital in a critical condition.
The army provided protection to the terrorists during the attack and took full control of the area after allowing a safe passage for them.
———————-
News No. 26/2018